Charleston and our detours on the way were so pretty we just had to share out photos and tell about our first weekend trip as a married couple! First off, we highly recommend that newly married couples get away for a weekend. So refreshing and fun. And stay within your budget. We've included some tips on how we saved on costs, and we hope you find them helpful!
Jon had never been to Charleston before, but I had been there once a few years ago. We were excited to explore together! First stop was the beach. Until we missed our gps turn and had to take an alternate road to get back on track. Look what we found on that unsuspecting dirt [sand?] road that connected two highways.
I gave Jon permission to pull over at any time to take photos if he saw something he wanted to capture. The sunflower fields had us off to a good start! Now we were finally on our way to the beach!
We first went to a public beach at Mt. Pleasant - paid parking, but it had bathrooms, changing rooms, and showers. We didn't take any photos there. Boy was it HOT and crowded. We enjoyed playing some volleyball together and having a blast in the very warm water. A storm came through, so we hit the road to research hotels and to find a good spot to see the nearby lighthouse. And then we hit the jackpot. Sullivan's Island. A private beach with free parking. SIGN ME UP!
After the lighthouse and beach adventure, we went to our hotel, which we HIGHLY recommend! The Residence Inn at Mt. Pleasant. Very clean, great staff, fantastic discounts [yay for USAA!], and AMAZING breakfast.
You know the new Chick-Fil-A app that just came out? We both signed up for it and we used our free sandwich for dinner our first night there. We paid for fries and an iced lemonade. Dinner for two for about $3. BAM.
We also bought snacks at Walmart before going to the beach - a few dollars worth. Our first day was a total of $7.
ALSO! Staying outside of historic Charleston helps with cost. Mt. Pleasant is only 15 minutes from historic downtown Charleston. We were able to get $100 off our hotel because we are members of USAA - another HUGE savings.
And here's another tip...
Eat so much continental breakfast that you won't need lunch. Worked like a charm. I really hope people weren't watching how much we ate...
And then we were off to Charleston! We checked into our hotel early so we could get the free parking [though we couldn't go to our room until later]. We walked about 8 miles and sweat like crazy. We didn't take our cameras until the second day.
If you stay in historic downtown, don't stay on a Friday or a Saturday. We stayed on a Sunday, which had significantly lower rates. It ended up being less than our first hotel, and it also had breakfast [but not as good]. We also highly recommend Andrew Pinckney Inn.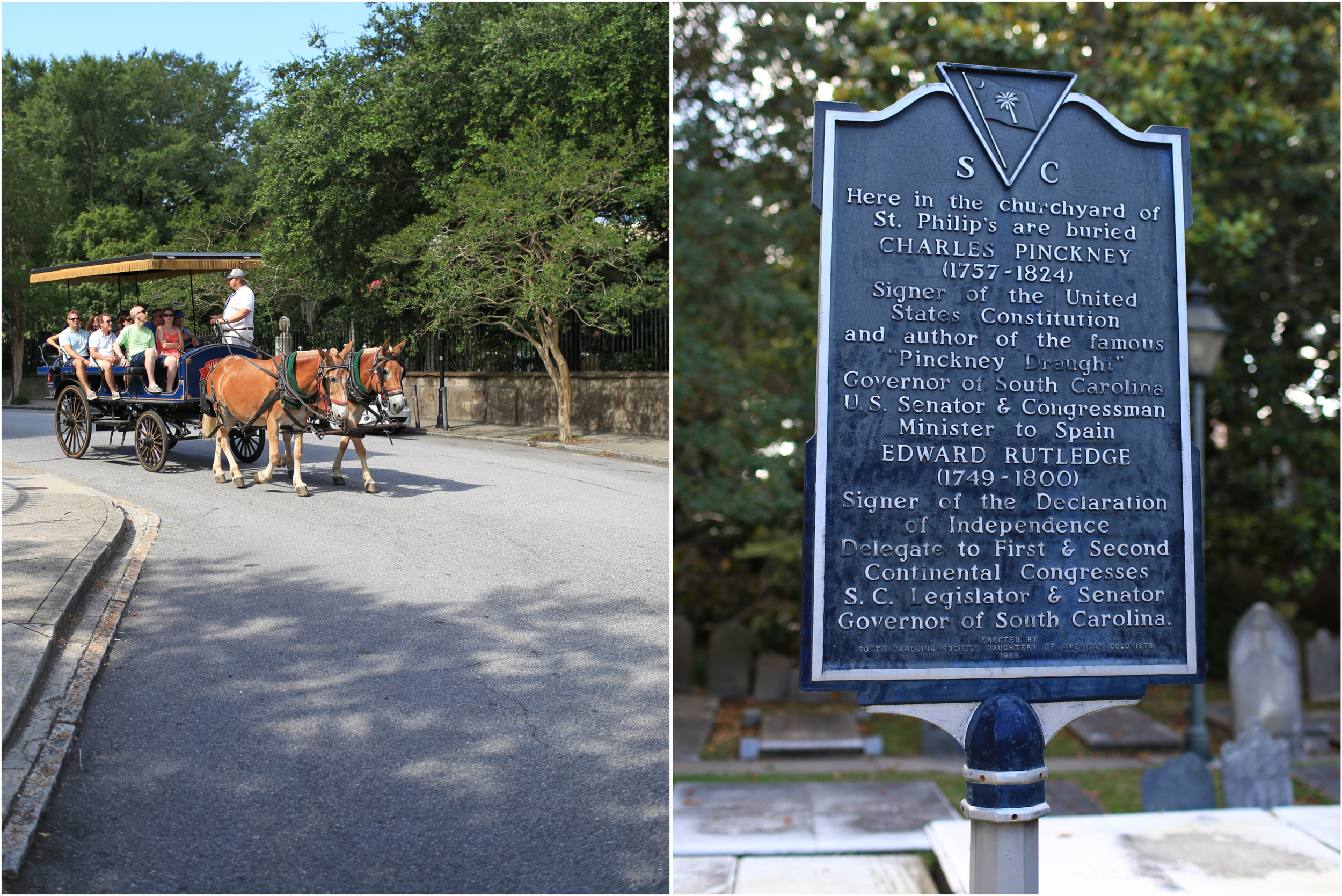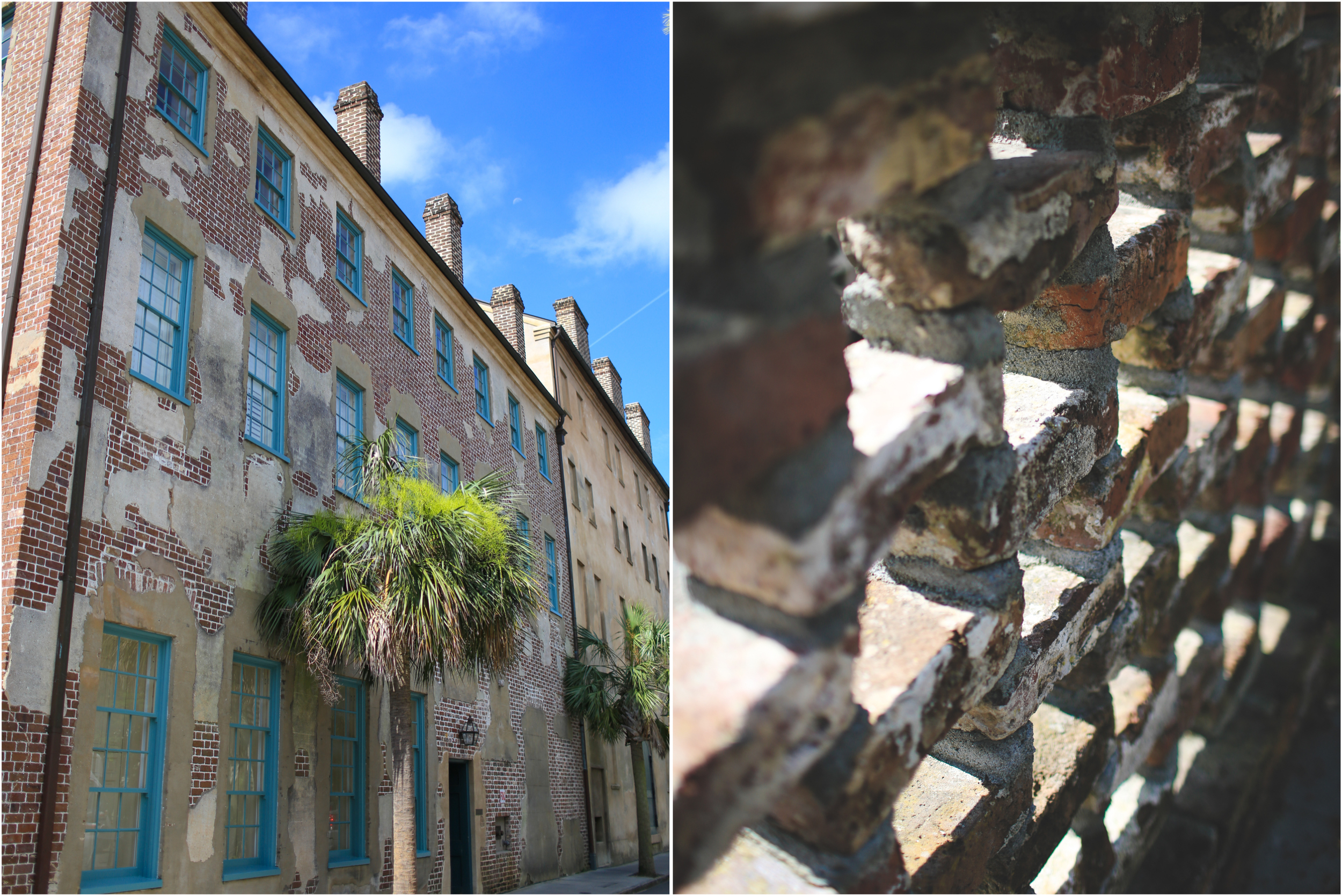 The famous Rainbow Row! It's so difficult to capture some of the city's beauty because most often than not, vehicles are parked in front of the buildings. I was pretty impressed with Jon and how he captured the history, beauty, and character. :)
Instead of eating at a fancy restaurant on Sunday night, we ate at Moe's. We decided to treat ourselves to ice cream cones by the battery. Until we saw the prices...
Jon kept mentioning that there was a Harris Teeter nearby. I wasn't in the mood for getting in the car and driving there to buy ice cream [because when cones are $4 each, you start thinking how much you could get with Harris Teeter's BOGO...]. And then, we realized that Harris Teeter was in walking distance! BEST IDEA ALL DAY. We decided on Italian Ice instead of ice cream. Jon asked the gal at Starbucks for a couple spoons. We were all set!!!! And we wouldn't be wasting ice cream or binge eating with the Italian Ice. A big plus!
What do you do when you have Italian Ice in your bag and a few blocks back to the hotel? The only thing any sane person would do. RUN!
And so we did. :) We definitely looked sketchy running while holding a brown paper bag.
On our last day in Charleston, we walked the city some [until the sewage problem was unbearable] and then headed to Isle of Palms until late afternoon. Subway was for lunch! Again, another great place to eat at an affordable price. I also forgot to mention that we brought fruit from home which held us over many times.
And that's it! If we go back to Charleston, we'd love to visit some of the plantations or museums. So much to do, so you have to pick and choose!
Did you find our budget pointers helpful? Let us know by leaving a comment! We love hearing from you all.
Go out and Adventure!
Jon & Jennifer